Quebec City region artist.
Located in Canada, the Ramparts of Quebec City is the only remaining fortified city in North America. The British began refortifying the existing walls, after they took Quebec City from the French in the Battle of the Plains of Abraham in 1759.
The wall, which runs on the eastern extremity of the Promontory of Quebec, surrounds most of Old Quebec, which was declared a World Heritage site by UNESCO in 1985. The fortifications were designated a National Historic Site of Canada in 1948.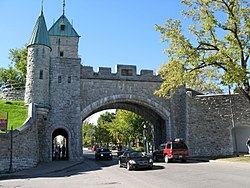 St. Louis Gate: dates back to at least 1694 was demolished in 1791 because of its poor condition and rebuilt. This gate lasted until 1823 when it was replaced. It was eventually removed altogether in 1871 before Lord Dufferin.