Born in Chicoutimi (Québec) in 1928.
Since 1967, the art of this self-taught artist , René Gagnon, has travelled around the world. As passionate and dedicated as he was then, his art remains today spontaneous and rich with colours. Using a palette knife, he layers colours with great artistry capturing the luminous quality particular to northern landscape.
Media coverage :
Magazin' Art, biennal guide of Canadian artists in galleries, 2002-2003 and earlier years; Magazin' Art summer 2001 edition, article pg.82 (French version) and pg.109 English version. Progrès-Dimanche, articles, 03-95, 03-98; Le Quotidien, articles, Chicoutimi, 10-72, 11-95, 11-98; Du Saguenay à Tasman-Negara, documentary film, Production Vison Mode, 1998; Le Matin Maghreb, article, 1997; Straits Times Kuala Lumpur, article, 07-1996; René Gagnon, lbook, Broquet, ed., 1972.
Collections :
Air Canada, Montreal; Akwa International, Montreal,Maroc; Alcan, Montréal;Distacum Communications, Hong Kong; Distilleries Corby, Montreal; Fondation Pierre Cardin, Paris; Groupe Afriquia, Maroc; Power Corporation, Montreal; Québécor, Montreal; Yayasan Seni Berdaftar, Malaisia.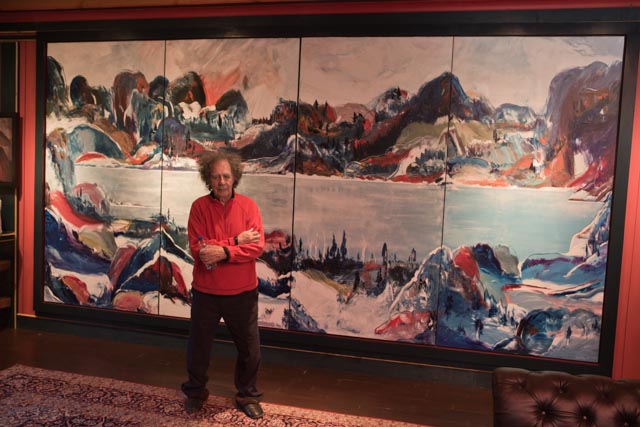 Prizes and distinctions :
Prize of the Commonwealth Cultural Festival, Kuala Lumpur, 1998; The Sun Kuala Lumpur, quotidian, article, 1996.
He received the Medal of the Quebec National Assembly on June 21st, 2012.
He also received the Commendation for Recognition of Excellence by the municipality of Sacré-Coeur-on-the-Fjord-du-Saguenay.
Museums :
Économusée of Valleyfield; Contemporary Museum of Montreal; Joliette Museum; Saguenay Museum, Lac St-Jean.