Canadian artist, R.C.A. Quebec Modern Group, Society of Plastic art of province of Quebec.
A Canadian artist, Jean-Paul Lemieux was born in Québec City on November 18, 1904. He began his artistic training at Layola College in Montreal in 1929. He then stayed in Europe and continued his painting training at La Grande Chaumière in Paris. On his return to Montreal, He and his friends Jean Palardy and Jori Smith founded JANS a commercial art company with workshop at Beaver Hall Square. This company does not prove to be a success and closes quickly after six months, in the summer of 1930.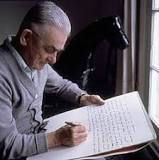 In 1935, he returned to the École des Beaux-Arts in Montreal to perfect his techniques under the teachings of Edwin Holgate. He completed this training by attending workshops given by Edwin Holgate in his own studio. He learns wood engraving and painting from living models. At this point in Lemieux's career, he is strongly inspired by the landscapes of the Group of Seven, which he finds modern and which change the academic influence. After marrying Madeleine DesRosiers, both returned to Quebec City in 1937, where Lemieux began his career as a teacher of painting and drawing at the École des Beaux-Arts in Quebec City. At the same time, he opens a drawing class for children. Along with this long teaching career, Lemieux paints, exhibits and publishes a few articles. In the 1940s, the painter became a prominent artist in Quebec. Jean-Paul Lemieux presents for the first time at the Musée du Québec, the artist Alfred Pellan and Paul-Emile Borduas, which followed a great rivalry of artistic ideologies between the two men. In this turmoil between the automatists and the Prisme d'Yeux group in Montreal, Lemieux stays out and continues his teachings and to express his own aesthetic values ??and his personal research. The decade of the 1940s is marked by Lemieux's search for his own voice. He created great works during this period such as La fête Dieu in Quebec City in 1944 or Lazarre in 1941. The second half of the decade is characterized by works of picturesque scenes of Quebec life and for some works a caricature sense. This trend comes from American influence, the Ash Can School or the American Scene of which his friend Goodridge Roberts is fervent. The 1950s mark a turning point in the career for the artist. First, he resumed his taste for painting thanks to summers spent in Port-au-Persil with Goodrige Roberts and Edmund Alleyn. He won with his work Les Ursulines the Grand Prix artistique of the Province of Quebec. He becomes an associate member of the Royal Academy of Canada.

After a stay in France, he became in 1955 the first President of the Society of Plastic Arts of the Province of Quebec with as secretary Claude Picher also director of exhibitions of the Quebec Museum at the time. In 1960, he participated in the Venice Biennale, which also included works by painters Albert Dumouchel and Edmund Alleyn. In 1962, Lemieux's paintings were presented in an exhibition of Canadian paintings in Warsaw. It was only in 1963 that the commercial success really happened for Lemieux. Then in his sixties, the artist paints little, a few dozen paintings a year.

In 1964, he was commissioned for the mural of the Canadian Confederation Center in Charlottetown, Prince Edward Island. He leaves the following year, a long teaching career and devotes himself to his art full-time. It was in 1967 that the consecration finally arrived with his participation in the exhibition Three hundred years of Canadian history in Ottawa organized by the National Gallery of Canada and a retrospective of Lemieux at the Montreal Museum of Fine Arts.

Jean-Paul Lemieux is particularly known for his paintings which presents vast silent landscapes. Many of his works are imbued with an intense sense of mystery and ambiguity. Lemieux takes a more formal and conceptual approach to his landscapes, often populated by rigid and immobile figures. Through the simplified symbolic figurative, he exploits the highly symbolic possibilities of the medium and demonstrates the importance of this medium on the plastic and significant level.

Her works are presented in the most prestigious national collections, such as the National Museum of Fine Arts of Quebec and the Montreal Museum of Fine Arts. As well, some of her works, lyrical and humorous, were used to illustrate Gabrielle Roy's novels.

Jean-Paul Lemieux died on December 7, 1990 in Quebec City.
TORONTO — A Jean Paul Lemieux classic sold for a record-breaking price at the Heffel Fine Auction House's fall sale Thursday night.
Bidding for Nineteen Ten Remembered reached $2 million, with the purchaser paying $2.34 million in total after adding a buyer's premium.
The auction house said the painting becomes the most expensive post-war Canadian work, surpassing an untitled Jean-Paul Riopelle that sold for $1,889,000 in 2008.
Nineteen Ten Remembered is a 106.7-by-146-centimetre painting depicting Lemieux as a six year old wearing a sailor suit and standing between his parents.
Two other Lemieux works also went up on the auction block Thursday night. Les Voyageys, an oil on canvas which was signed and dated 1964, sold for $702,000 and a later work, "Le croisement" sold for $304,200.
Another record was set Thursday by Emily Carr's War Canoe, Alert Bay.
The piece was bought for $1.22 million, breaking a record for the most valuable Canadian watercolour sold at auction.
The Heffel auction included 190 lots overall and drew $16.73 million in sales, beating the $8 million to $12 million it was expected to draw.