Mostafa Keyhani. Born in 1954 in Iran, Mostafa now lives in Toronto with his family. His work is essentially in the field of modern impressionism. Light plays an important role in his work, as well as movement of colors. Mostafa's work is about capturing the essence of certain light through effortless brush strokes and movements. He is known for his use of thick sculptural paint and strong, spontaneous brush work. He continues to work with subject matters that best capture the essence of abstract or modern impressionism.
Capturing his talents in high school, a teacher encouraged him to expand his talents in the artistic field thus finally discovering his love and passion for painting. Although he later received a Diploma in Biology and Anatomy, he began studying art at the Tehran University and Dusseldorf University. After graduation, Mostafa decided to expand his artistic mind in Germany and France.
Over the next seven years, he defined his craft and inner expressions bringing uniqueness and original stylized characteristics to each of his works. A Keyhani piece is one to be cherished. The color palette chosen for each piece allows the admirer to dive to the place of origin within the work. Perhaps it is his love for travel that has allowed him to capture the essence of a Quebec City landmark or a simple balcony overlooking the Seine. Whether a petite 8×10 or his grandeur 48×72, it is easy to get lost in each of his paintings.
Keyhani's paintings are featured in galleries in Munich, Dusseldorf, Paris, Cannes, Canada, and the United States. His paintings are in numerous important collections in France, Germany, the United States and Canada, where his work is on display in the permanent collection of Saint Michael's College in Colchester, Vermont.
Mostafa Keyhani is a member of the Salmagundi Club, Signature Member of Oil Painters of America (OPA), Tucson Plein Air Painters Society (TPAPS) and the LPAPA.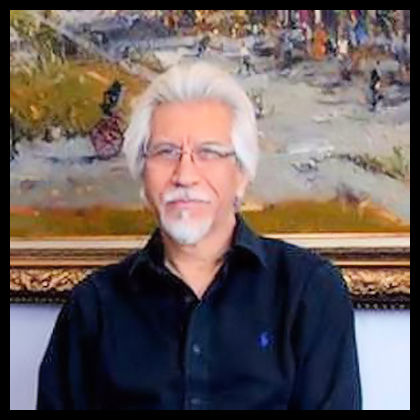 Mostafa Keyhani. Né en 1954 en Iran, Mostafa vit maintenant à Toronto avec sa famille. Son travail se situe essentiellement dans le domaine de l'impressionnisme moderne. La lumière joue un rôle important dans son travail, ainsi que le mouvement des couleurs. Le travail de Mostafa consiste à capturer l'essence de certaines lumières à travers des coups de pinceau et des mouvements sans effort. Il est connu pour son utilisation d'une peinture sculpturale épaisse et d'un travail au pinceau fort et spontané. Il continue de travailler avec des sujets qui capturent le mieux l'essence de l'impressionnisme abstrait ou moderne.
Capturant ses talents au lycée, un enseignant l'encourage à développer ses talents dans le domaine artistique découvrant ainsi enfin son amour et sa passion pour la peinture. Bien qu'il ait ensuite obtenu un diplôme en biologie et en anatomie, il a commencé à étudier l'art à l'université de Téhéran et à l'université de Düsseldorf. Après avoir obtenu son diplôme, Mostafa a décidé d'étendre son esprit artistique en Allemagne et en France.
Au cours des sept années suivantes, il a défini son art et ses expressions intérieures en apportant un caractère unique et des caractéristiques stylisées originales à chacune de ses œuvres. Une pièce Keyhani est une pièce à chérir. La palette de couleurs choisie pour chaque pièce permet à l'admirateur de plonger au lieu d'origine au sein de l'œuvre. C'est peut-être son amour du voyage qui lui a permis de saisir l'essence d'un monument de la ville de Québec ou d'un simple balcon surplombant la Seine. Qu'il s'agisse d'un petit 8×10 ou de sa grandeur 48×72, il est facile de se perdre dans chacun de ses tableaux.
Les peintures de Keyhani sont présentées dans des galeries à Munich, Düsseldorf, Paris, Cannes, au Canada et aux États-Unis. Ses peintures font partie de nombreuses collections importantes en France, en Allemagne, aux États-Unis et au Canada, où son travail est exposé dans la collection permanente du Saint Michael's College à Colchester, Vermont.
Mostafa Keyhani est membre du Salmagundi Club, membre signature de Oil Painters of America (OPA), Tucson Plein Air Painters Society (TPAPS) et de la LPAPA.
Selected Public Collection:
Canadian Parliament Building,Ottawa,Canada
St Micheal's College,Colchester,Vermont
Selected Solo Exhibitions:
Galerie Christin,Toronto ont,Canada 2014
Canadian Heritage Art Company,Toronto,Ont,Canada 2008
Gallery on Fifth,Naples,FL 2004
Gallery on Fifth,Naples,FL 2003
Xanadu Gallery,Scottsdale,AZ 2002
Zandman Art Galleries,Carmel,CA 2001
Zandman Art Galleries,Palm Desert,CA 2001
Zandman Art Galleries,Carmel,CA 2000
Smith Gallery,Stuttgart, Germany 1996
Selected Annual Group Exhibitions
Westmount Art Gallery,Toronto, Ont, Canada 2016
Canadian Heritage Art Company,Toronto,Canada, Ont 2015
Spring Auction Exhibition,Salmagundi Club,NYC 2014
Galerie le Bourges, Québec, Canada 2013
Canadian Heritage Art Company,Toronto,Canada,Ont 2010
Canadian Heritage Art Company,Toronto,Canada,Ont 2008
Jones&Terwilliger Galleries,Palm Desert,CA 2007
Westmount Art Gallery,Toronto,Ont,Canada 2006
Salon International 2004,Greenhouse Gallery of Fine Art,San Antonio,Texas 2004
Los Ranchos,El Presidio Gallery,Tucson, Arizona, 2004
Tucson plein Air Painters Society Distinguished Artist Member Show 2004
Hilton Head Nat'l Juried Exhibition,SC 2003
Main Street Gallery,Perry,FL 2003/2002
Green House Gallery of Fine Art,San Antonio,TX 2003/200
Salmagundi Club,Fall Auction,NYC 2002
Zantman Art Galleries,Carmel,CA 2002
Canadian Women'sCommittee,Ont 2000
Oil painters Of America,Palm Desert,CA 2000
Awards and Honors
Fourth Place Award in the Studio Division,"Colorado Rocky Mountain High"Wet Paint Competition,Steamboat Spring,CO 2018
Best in the Show Award in the plain Air Division, "Beautiful Ohio"Wet Paint Competition,Cincinnati,Ohio 2017
Animal Award of Excellent,OPA National Juried Exhibition,Cincinnati,Ohio 2017
Members Choice Honorable Mention Award,OPA National Juried Exhibition,Cincinnati,Ohio 2017
First Place(Joseph Hardley SCNY Awatrd), Salmagundi Club, NYC 2014
third Prize(Abstract&Exprimental),International Artist magazine 2014
Joseph Hartley SCNY Awards,Salmagundi Club, NYC 2005
Jane Impasto Award,Salmagundi Club, NYC 2004
Second Place Los Ranchos,El Presidio Galley,Tucson , AZ 2004
Third Place,Tucson Plein Air Society, Tucson, AZ, 2004
Honorable Mention,Salon International Museum of Fine Art,San Antonio, TX 2003
Honorable Mention Hilton Head Art League,SC. 2003
Award of Artistic Achievement, Naples, FL. 2003
Third Place,View Point 2003, Cicinannati Art Club,OH 2003
First Place(Silvio Vaeria SCNY Award), Salmagundi Club,NYC 2002
The Best Street Scene,Tucson Plein Air 2001
Current Galleries:
Saatchi Art (UK) and saatchiart.com
Westmount Gallery Ltd., Toronto, Ontario.
Highlands Art Gallery, St. Lambertville, NJ
Marden Art. Pointe-Claire, Québec
Buckingham Gallery of Fine Art Ltd.Uxbridge, Ontario
Eiselefine Art. Cincinati, Ohio.
Jones & Terwilliger Galleries (Carmel, Palm Desert)
Lu Martin Galleries, Laguna Beach, CA
Similar Art: Montreal City Hall