Gilles-Emmanuel Gingras was above all a master landscaper. His art shows a certain taste, a rare dexterity and an extremely fertile imagination.
What characterizes this great Quebec painter is his transparency of the atmosphere that encourages daydreaming. His vision plays with the vibrations of the sun through mist and fog. It is an art filled with sensitivity, poetry, calm and serenity.
In this discipline of etching, Gilles-Emmanuel Gingras demonstrates a safe technique, an explosion of imagination that do not go unnoticed.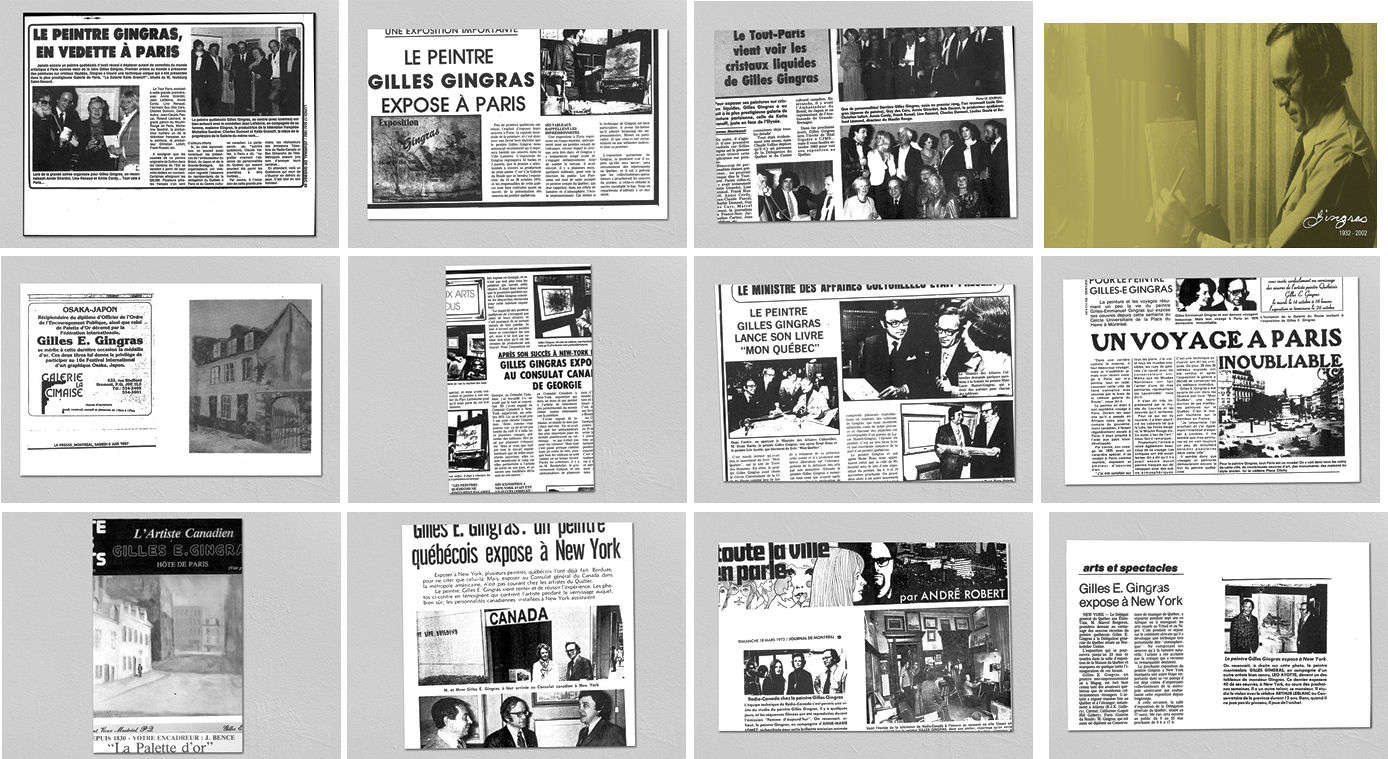 Biography
1932
Gilles-Emmanuel Gingras was born in Magog-en-Estrie on September 7, 1932 and shows interest in painting from the age of eight.
1953 -1955
He studied painting at the Canadian Academy of Arts in Montreal and sculpture alongside the famous Canadian artist Elzéar Soucy.
1960 - 1967
Period of temporary exile in Africa where he teaches his art in schools of Chad and Niger under the auspices of the Canadian International Development Agency. Witness of a sandstorm, this phenomenon widens its visual horizons hitherto limited to customary projections.
1968
It illustrates 19 beautiful paintings from the book "Old Montreal", which then enjoyed instant success.
1969
He won the title of Painter of the Year by the Council of the Arts at McGill University. Gilles-Emmanuel Gingras then multiplies the numerous exhibitions in his province and abroad.
1970
Gingras is gaining an enviable reputation in Quebec's painting circles. He is one of the few painters to live by his art. Painting is for him "a daily discipline, but also a continuous search".
1973
Having developed a unique style, Gilles-Emmanuel Gingras only frequents the painters Albert Rousseau and Léo Ayotte in order to avoid any external influence, the latter having lived in his house for a few years.
1978 - 1989
He practices engraving, to finally donate his equipment to the Albert Rousseau workshop in St-Étienne-de-Lauzon. He also practices lithography, oils and liquid crystals - he was the first artist in the world to present liquid crystal paintings.
1980
The Financial Post ranks Gilles-Emmanuel Gingras as one of the top five painters, in the category "Canada's top talent".
Gilles-Emmanuel Gingras' visual acuity diminished to such an extent that he was deprived of his greatest joy during the last three years of his life: he could no longer paint. On November 6, 2002, he died, leaving behind a high-level artistic legacy ...