Sydney Berne (1921-2013)
Born: 1921 - Toronto, Ontario, Canada. Died: 2013 - Montreal, Quebec, Canada
Known for: Painting, sculpture, and printmaking
A painter, sculptor and printmaker, Sydney Berne (AKA: Sidney Bernstein, AKA: A.C. Martin, AKA: R. Fisher, AKA: Hillier) was born in Toronto, Ontario and has lived in Montreal, Quebec since returning from service in World War II (1947).
His medium is primarily oil on board or canvas; however, he has worked in acrylics, watercolors, graphite, ink, felt pen, wash, zinc plate etching*, linocut*, clay and mixed mediums. His subjects are landscapes, snowscapes, seascapes, street scenes, still life, portraits, tall ships, and trains. The exterior locations include the Laurentian Mountains (Quebec), Nova Scotia (visited 1943), and the cities of Montreal, Quebec, and Toronto. His styles are Realism*, Fauvism*
References:
Lareau-law.ca:
Berne, Sydney, 1921-2013, (Roussan 2001; Roussan 2005; Roussan 2006; Artistes plasticiens par Comeau; Art Auctions 1976-1978; Sales Index 1989-90; Roussan 2009;
Dictionary of Canadian Artists, vol. 1, p. 258a; Roussan 2013;
Collection d'art de la Ville de Gatineau -- 2019)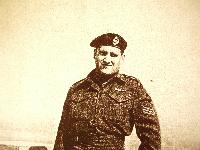 Sydney Berne (1921-2013)
Naissance : 1921 - Toronto, Ontario, Canada. Décédé : 2013 - Montréal, Québec, Canada
Connu pour : Peinture, sculpture et gravure
Variantes de nom : Sidney Berne, Sidney Bernstein, R Fisher, Hillier, J P Masson
Peintre, sculpteur et graveur, Sydney Berne (alias Sidney Bernstein, alias AC Martin, alias R. Fisher, alias Hillier) est né à Toronto, en Ontario, et vit à Montréal, au Québec depuis son retour du service pendant la Première Guerre mondiale. II (1947).
Son médium est principalement l'huile sur carton ou sur toile ; cependant, il a travaillé à l'acrylique, à l'aquarelle, au graphite, à l'encre, au feutre, au lavis, à l'eau-forte sur plaque de zinc*, à la linogravure*, à l'argile et aux médiums mixtes. Ses sujets sont des paysages, des paysages de neige, des paysages marins, des scènes de rue, des natures mortes, des portraits, des grands voiliers et des trains. Les emplacements extérieurs comprennent les montagnes des Laurentides (Québec), la Nouvelle-Écosse (visitée en 1943) et les villes de Montréal, Québec et Toronto. Ses styles sont le Réalisme*, le Fauvisme*
Les références:
Lareau-law.ca :
Berne, Sydney, 1921-2013, (Roussan 2001 ; Roussan 2005 ; Roussan 2006 ; Artistes plasticiens par Comeau ; Art Auctions 1976-1978 ; Sales Index 1989-90 ; Roussan 2009 ;
Dictionnaire des artistes canadiens, vol. 1, p. 258a ; Roussan 2013 ;
Collection d'art de la Ville de Gatineau -- 2019)