Joseph Henri Paul Cyrille Lecorre (usually Paul Lecorre), known as Tex Lecor, born in Saint-Michel-de-Wentworth on June 10, 1933 and died on September 9, 2017 in Terrebonne, is a Quebec singer-songwriter and painter.
After an early career as a singer who made him known throughout Quebec, he devoted himself entirely to painting and the visual arts, from the late 1970s until his death in 2017. (He was already active in painting and had a painter's workshop in the 60s.)
Born June 10, 1933 in Saint-Michel-de-Wentworth near Lachute, Tex Lecor studied at the Montreal School of Fine Arts from 1951 to 1958, with other artists who will be famous, such as the sculptor Armand Vaillancourt.
His career as a songwriter in the 1960s made him known to a wide audience, where he appreciated his image as a rebellious coureur de bois. In 1969, he sang Le Patriote, a song that identifies him with the movement for the independence of Quebec4. In 1971, he popularized a modified version of the song The Frigidaire originally written by Georges Langford, who took the lead in the Quebec charts, and gave him a "sufficient financial security" 5, according to the terms of his biography, published on his website official. The Frigidaire was so successful that the song was translated into 10 languages.
During this period, he is also the host of Sous mon toit, a popular variety show broadcast on Télé-Métropole and stations of the TVA network. He also participated, between 1974 and 1989, in the weekly comedy magazine Le Festival de l'humor with Louis-Paul Allard, Roger Joubert and Pierre Labelle, on the Montreal station CKAC7.
He gave up signing in 1978, having enjoyed success with his French version of Lucille, a hit by American country singer Kenny Rogers.
Lecor has since devoted himself to his passion for painting. He also becomes a bush pilot and a great traveler who travels all over the country to make his colorful and popular collector's works.
As part of the landscape tradition, his figurative pictorial work is inspired by those of Marc-Aurèle Fortin, Clarence Gagnon and the painters of the Group of Seven. "Irreducible" defender of nature, his work is strongly marked by nostalgia and his many trips to northern regions often inspire his paintings.
From 1998 to 2010, he co-hosts the TV show Y'a full of sun on TQS, magazine for the elderly, with Louis-Paul Allard, Roger Joubert and Shirley Théroux.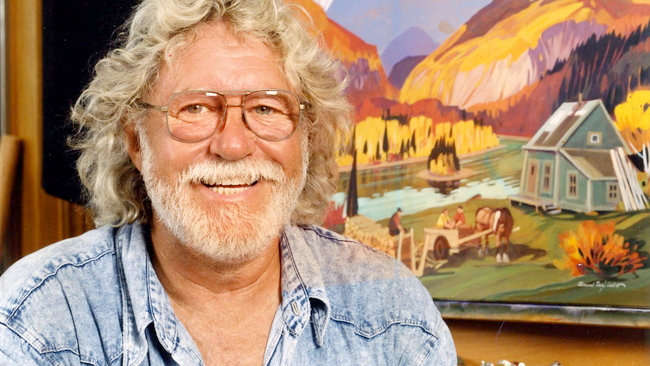 Joseph Henri Paul Cyrille Lecorre (habituellement Paul Lecorre), dit Tex Lecor, né à Saint-Michel-de-Wentworth le 10 juin 1933 et décédé le 9 septembre 2017 à Terrebonne, est un auteur-compositeur-interprète et peintre québécois.

Après un début de carrière de chanteur qui l'a fait connaître à travers le Québec, il se consacre entièrement à la peinture et aux arts visuels, de la fin des années 1970 jusqu'à son décès en 2017. (Il était déjà actif dans la peinture et avait un atelier de peintre dans les années 60 .)

Né le 10 juin 1933 à Saint-Michel-de-Wentworth près de Lachute, Tex Lecor étudie à l'École des beaux-arts de Montréal de 1951 à 1958, auprès d'autres artistes qui seront célèbres, comme le sculpteur Armand Vaillancourt.

Sa carrière d'auteur-compositeur dans les années 1960 le fait connaître d'un large public, où il apprécie son image de coureur de bois rebelle. En 1969, il chante Le Patriote, une chanson qui l'identifie au mouvement pour l'indépendance du Québec4. En 1971, il popularise une version modifiée de la chanson The Frigidaire écrite à l'origine par Georges Langford, qui prend la tête des charts québécois, et lui donne une « sécurité financière suffisante » 5, selon les termes de sa biographie, publiée sur son site officiel. Le Frigidaire a eu un tel succès que la chanson a été traduite en 10 langues.

Durant cette période, il est également l'animateur de Sous mon toit, une populaire émission de variétés diffusée à Télé-Métropole et aux stations du réseau TVA. Il a également participé, entre 1974 et 1989, au magazine hebdomadaire d'humour Le Festival de l'humour avec Louis-Paul Allard, Roger Joubert et Pierre Labelle, à la station montréalaise CKAC7.

Il renonce à signer en 1978, après avoir connu le succès avec sa version française de Lucille, tube du chanteur country américain Kenny Rogers.

Lecor se consacre depuis à sa passion pour la peinture. Il devient également pilote de brousse et grand voyageur qui sillonne tout le pays pour réaliser ses œuvres de collection colorées et populaires.

S'inscrivant dans la tradition du paysage, son œuvre picturale figurative s'inspire de celles de Marc-Aurèle Fortin, de Clarence Gagnon et des peintres du Groupe des Sept. Défenseur « irréductible » de la nature, son œuvre est fortement empreinte de nostalgie et ses nombreux voyages dans les régions nordiques inspirent souvent ses toiles.

De 1998 à 2010, il co-anime l'émission Y'a plein de soleil sur TQS, magazine pour personnes âgées, avec Louis-Paul Allard, Roger Joubert et Shirley Théroux.