Jean Grenier explore d'abord le côté conformiste de son art. Ce n'est que petit à petit qu'il apprend à se découvrir et qu'il finit par trouver sa propre signature. « Dans un de mes tableaux, je voulais vieillir de vieilles granges, donc je cassais mes lignes. Et je me suis dit : « Tiens, pourquoi ne pas toutes les briser ? » ». Le résultat fantaisiste et ludique plait à l'artiste. « J'appelle ça le style ''ondulationniste''. J'ai choisi de le travailler pour avoir droit à la différence et pour oser », explique l'artiste habité par le besoin de sortir des sentiers battus.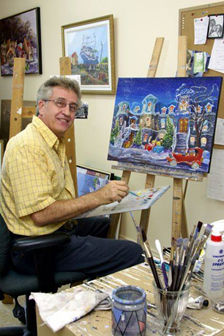 Jean Grenier first explores the conformist side of his art. It is only little by little that he learns to discover himself and eventually finds his own signature. "In one of my paintings, I wanted to age old barns, so I broke my lines. And I was like, "Here, why don't you break them all? "". The whimsical and playful result appeals to the artist. "I call it the 'waveist' style. I chose to work on it to have the right to be different and to be daring, "explains the artist, who is driven by the need to think outside the box.
La Gare du Palais est une gare ferroviaire et routière à Québec, Québec, Canada. Son nom vient de sa proximité avec le palais de l'intendant de la Nouvelle-France. Il est desservi par Via Rail, le chemin de fer national des voyageurs du Canada, et par la compagnie d'autocars privés Orléans Express.

Construite en 1915 par le chemin de fer Canadien Pacifique, la gare château de deux étages est de conception similaire à l'hôtel Château Frontenac. La gare n'avait pas de service ferroviaire voyageurs de 1976 à 1985. Elle a rouvert en 1985 et est le terminus est des services du Corridor de Via Rail en Ontario et au Québec, desservant des services quotidiens réguliers à l'ouest de la gare centrale de Montréal et d'Ottawa via Drummondville, un total de 12 trains par jour. Elle a été désignée gare du patrimoine en 1992.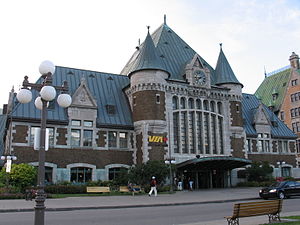 Gare du Palais ("Palace Station") is a train and bus station in Quebec City, Quebec, Canada. Its name comes from its proximity to the Palace of the Intendant of New France. It is served by Via Rail, Canada's national passenger railway, and by the private coach company Orléans Express.

Built in 1915 by the Canadian Pacific Railway, the two-storey châteauesque station is similar in design to the Château Frontenac hotel. The station had no passenger rail service from 1976 to 1985. It reopened in 1985, and is the eastern terminus of Via Rail's Corridor services in Ontario and Quebec, serving regular daily services west to Montreal's Central Station and Ottawa via Drummondville, for a total of 12 trains per day. It was designated a Heritage Railway Station in 1992.